So, some of you know that I've been working on building my own Claptrap. (If you don't know who claptrap is, check out the video link at the end of the post.)
The first step was to get a 3d rendering of him. Luckily, I was able to find one online. Problem was that it was pretty dirty and everything was one object. Thus began my project to learn AutoCAD and clean it up. I was able to break out all the sides, internal parts, etc, into their own layers. It took a while, but I was happy with the results.
After having all the layers set aside, I was able to create outlines of the shapes I wanted to use.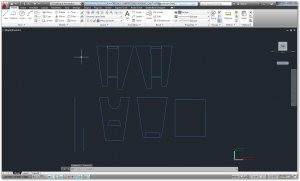 Using this, I can start making full-sized printouts (initially using cardboard) to determine how it will look and make sure all the parts go together correctly. Once I'm happy with that, I'll move onto the cutting and welding the metal together.
Continue reading →